Revamp your digital presence: Essential elements of an Egyptian company website
Analysis of Egyptian enterprises' websites revealed that 97 percent are in English and only 43 percent in Arabic. 39 percent offer an email newsletter
Egypt Business analyses the digital marketing of the 500 most prominent Egyptian enterprises. This paper is #6 of a series of papers on digital marketing in Egypt.
Within the framework of an extensive scientific research initiative, the online presence of the 500 most prominent Egyptian enterprises is currently being systematically analyzed. Herein, we present preliminary findings from this research study:
97 percent of Egyptian companies have an English language

website

43 percent of Egyptian companies have an Arabic website, 40 %

have both

91 percent of Egyptian companies offer a direct contact

39 percent of Egyptian companies have an email newsletter
Having a company website is vital for any business in today's digital age, but it becomes even more crucial for an Egyptian company looking to boost its exports. Serving as a digital storefront accessible globally, it not only enhances the firm's credibility on the international stage but also offers cost effective marketing, continuous availability, and tailored content for diverse markets. With direct communication channels, real- time product updates, and a platform for showcasing success stories, the website becomes a fundamental asset, streamlining global outreach and trust-building, thereby propelling the company's growth in the international market.
A professional company website serves as a virtual business card, providing potential clients with a first impression. Here are some of the essential elements that such a website should include.


Homepage is the company's virtual storefront
The company name and logo should be prominently displayed here, complemented by a succinct value proposition or slogan. The main navigation guides visitors to further crucial information, while the primary content highlights the services or products on offer.


Most Egyptian companies use Wordpress
A professional content management system (CMS) allows for easy content management without technical skills, ensuring quick updates and a consistent website appearance. It supports collaboration with role-based access, is scalable for business growth, and offers SEO tools for better online visibility. CMS platforms enhance security with regular updates, allow customization to meet specific needs, and are cost-effective in the long run. They also enable mobile optimization, integrate with analytics for actionable insights, and facilitate content scheduling for strategic posting, making them vital for maintaining a dynamic and engaging online presence. Most Egyptian companies work with Wordpress. Some also use Yoomla, Drupal, Wix, Odoo, or Squarespace.
Language adapted to the audience
In the context of expanding our global footprint and boosting exports, ensuring our website speaks to an international audience is imperative. By adapting the website to cater to both languages – Arabic and English , we demonstrate cultural sensitivity and a commitment to personalizing the user experience. This strategic move can significantly elevate trust and brand perception among international clients and partners. Leveraging techniques like the HTTP Accept-Language header and JavaScript, we can automatically present content in our audience's preferred language. Analysing the 500 most important Egyptian companies revealed that 97 percent have an English website. 42 percent have an Arabic website and 40 percent have both an English and an Arabic version.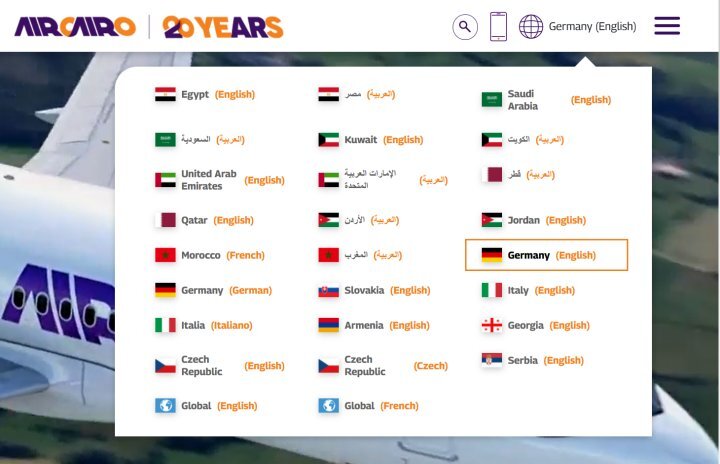 When visiting the Website of Air Cairo from Germany, the country is
automatically detected and the language switches to English.


About Us gives a behind-the-scenes look
Here, visitors learn more about the company's history, mission and vision, and the team or significant company members.


Products/Services provide an overview of what's on offer
Detailed descriptions, prices, images, or videos of products can be showcased here, supplemented by customer reviews or testimonials. Testimonials give authentic feedback from customers or partners can help build trust. Portfolio or Case Studies can showcase previous work or projects, especially important for service companies.


Navigation bar on top provides quick orientation
A navigation bar is vital for a website's user experience, offering a clear way for visitors to explore. It ensures efficiency by reducing search time, organizes content, and aids in search engine optimization (SEO). Furthermore, it reinforces branding, guides users with calls to action, and enhances accessibility. With the rise of mobile browsing, adaptability across devices is crucial. A professional navigation bar can also decrease bounce rates and establish trust, acting as a site's roadmap for users and search engines. Navigation bars can also serve to guide users towards specific actions, like "Sign Up," "Shop Now," or "Contact Us." With the rise of mobile devices, navigation bars have evolved to be responsive, turning
into "hamburger menus" or other designs on smaller screens. This adaptability ensures that users have a consistent browsing experience across all devices.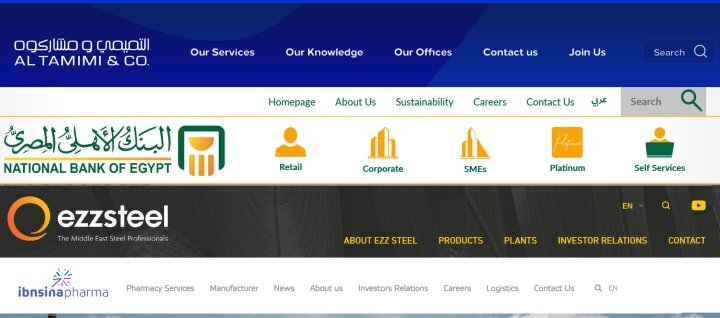 Examples of navigation bars of Egyptian websites


Contact is a must-have for interaction
Alongside the phone number, email, and physical address, a contact form for inquiries and a location map are indispensable. To enhance visitor contact on a company website, integrate a prominently displayed "Contact Us" page and a mobile-friendly contact form. Introduce live chat for immediate assistance and clearly list phone numbers, emails, and addresses. Add clickable phone numbers for instant calls from mobile devices and maintain an FAQ section to address common queries. Incorporate options like callback requests, ensure accessibility for users with disabilities, and use compelling CTAs. Regularly update contact details and optimize page load speeds to ensure a seamless user experience that encourages communication. 91 percent of Egyptian website have different contact options on their website. This means that 9 percent have a website but offer now way of getting into direct contact with the company.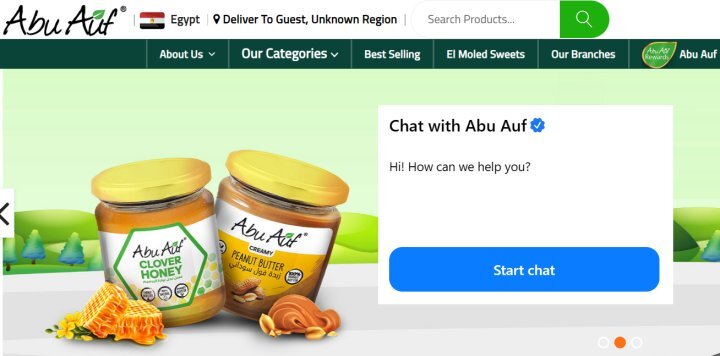 Abu Auf has a chatbot to get into contact with potential clients


Blog or News Section
A blog or news section is part of the content strategy of a company. Timeliness is reflected in regular posts on relevant topics or company updates.It boosts SEO, engages readers, establishes authority, and facilitates updates. It enhances social media presence, targets long-tail queries, and nurtures a community, aiding in marketing and potential monetization.
Additional Features like social media links
Social media links on a website are crucial bridges connecting a brand's digital presence, reinforcing brand visibility and fostering enhanced user engagement. These links not only drive traffic between the site and social platforms, increasing overall online exposure, but they also instill trust by showcasing an active and transparent brand presence. In essence, integrating social media on a website is a strategic move that amplifies reach, engagement, and brand personality in today's digital-centric world. Additional features like a search function, newsletter sign-ups, responsive design, security certificates, and clear call-to-action elements are also important.

A newsletter form is the key to new customers
A newsletter form on a website is a strategic asset for direct and consistent engagement with an audience. It enables businesses to retain and personally connect with subscribers, drive recurring traffic to their site, and foster trust through valuable content and exclusive offers. Additionally, by offering insights into subscriber behavior, it aids in refining marketing strategies, making it an indispensable tool for nurturing and monetizing relationships in the digital realm.
A newsletter is effective for lead generation because it provides a structured avenue for companies to consistently engage with potential customers. Through newsletters, businesses can showcase their expertise, share valuable content, and establish trust with subscribers. As recipients are exposed to the brand's offerings and updates, they become more familiar with and receptive to its products or services. By using targeted content, special offers, or exclusive insights, a newsletter can gently guide subscribers through the sales funnel. Furthermore, because users typically opt-in to receive newsletters, it indicates a pre-existing interest in the brand or its industry, making them warmer leads.
39 percent of Egyptian companies offer a newsletter subscription form on their website.
How Egyptian companies integrate a newsletter registration form

In conclusion, every professional company website should be clear, user friendly, and up-to-date. An appealing design and regular updates are essential to gain visitors' trust and foster business success.
Egypt Business analyses the digital marketing of the 500 most prominent Egyptian enterprises. This paper is #6 of a series of papers on digital marketing in Egypt. See also:
#1: 5 good reasons for digital marketing
#2: Steps to a digital marketing strategy
#3: Nine goals of digital marketing
#4: Growth marketing
#5: Egypt's 10 web woes