How to make your online shop successful
The online shop is the digital flagship of every e-commerce company. It has has also become important for stationary retailers and brands.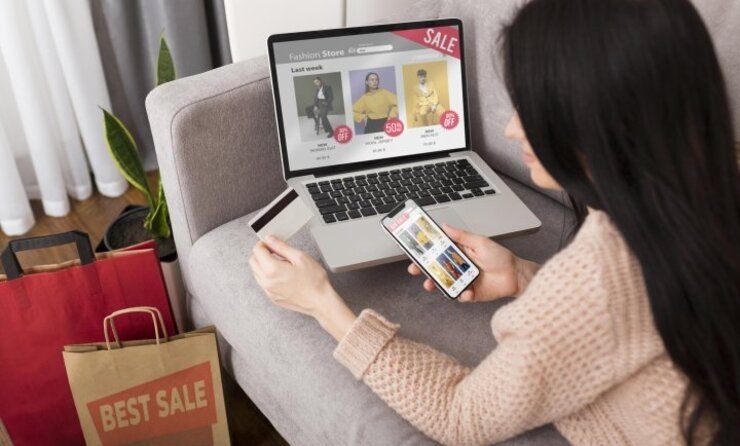 Many retailers have realised how important the digital channel is for their business. But an online shop today depends on much more than just listed products and simple search functions. In our article, you will find out which aspects you should consider in your online shop concept so that it inspires your customers.

Identify target group, define requirements
Who is my target group? And what are their needs when using the online shop? Before you start the technical implementation of your shop, the target group analysis is obligatory. The necessary functions of the shop depend on the results. For example, search and filter functions, possibilities for registration and login or the selection of payment options. In the shop conception, you should therefore find out exactly what your customers want from the online shopping experience. Keyword: user and customer experience. But beyond that, the target group is also of enormous importance.
The more information you collect about your target group, the better for your online shop concept. You can read how to successfully analyse your target group in our article "How to successfully analyse your target group". On the basis of the target group analysis, you will get clues about how your potential customers move around on the internet and which functions they need to place special emphasis on when selecting shop solutions and the design of the shop. You will also gain insights into the extent to which you should pursue a multi- or omnichannel strategy. In other words, which channels should definitely be linked for your target group. The analysis also shows whether target groups should be further segmented into user groups. Therefore, in your online shop concept, ask yourself these questions in relation to your target group:
Who is my target group?
What needs does my target group have when using my shop?
Do the needs of the target group differ greatly? If so, which user groups could be useful (e.g. heavy shoppers, regular customers, etc.)?

Market and competition analysis
Of course, you not only want your online shop to be perfectly tailored to your target group, but also to stand out from your competitors as much as possible. A Unique Selling Proposition (USP) is therefore an essential part of your online shop concept. Therefore, analyse your market and competitors thoroughly. For example, how quickly do your competitors ship? Your USP could possibly be even faster shipping. Do you have unusual products for your shop? Then use them as a customer magnet. But: The USP does not always have to be the high-end product, but can also include services in the shop. Perhaps you also want to offer personal consultations via video chat in the future?

Data management and product management: analogue vs. digital
An equally important aspect as the target group analysis is the question of data maintenance and product management. In online retail, this should be geared above all to multi- and omnichannel strategy. In the coming years, omnichannel in particular will become the new normal. This is shown, among other things, by a current omnichannel study by Salesforce.
Multi- and omnichannel - new demands on data management
Multi- and omnichannel place high demands on data maintenance. Retailers have to fill several sales channels with information in equal measure - and pay attention to up-to-dateness and congruence. Besides the online shop, other websites and marketplaces, but also social media such as Facebook with social selling are part of the omnichannel strategy. The more channels a company has to take into account, the more difficult it is to maintain an overview. When it comes to data management, the online shop concept should therefore place particular emphasis on a central, digital platform for data management.
Especially in smaller companies, however, it is common that master, product and customer data are still maintained manually. With small sales volumes, this is also manageable. But: traders quickly reach their limits when sales figures increase. And across e-commerce as a whole, these have been rising rapidly for years. Manual data maintenance is also problematic when it comes to product management. Item availability and important data from suppliers and warehouses must always be up-to-date. In the fast-moving online trade, manual data maintenance/product management cannot keep up.

PIM as the central basis for data management
The choice of tools and solutions is based on your core business. The tools should be flexible as well as scalable. A PIM system, for example, is a long-term part of the tool setup and forms the best basis for optimised product data management. It helps you to manage product information centrally and to display it congruently on different channels. A PIM system consolidates all existing product information (master data from the ERP system, media data, etc.) on one platform, structures it and outputs it in different formats.
Would you like to know more about PIM systems or are you already looking for a PIM solution? Then read our interview with the PIM software manufacturer myview systems. In our market overview of PIM solutions you will also find a comparison of 22 different providers. Ask yourself for your online shop concept with regard to data maintenance:
Where does my master, product and customer data come from?
Which data is necessary for my suppliers and the warehouse?
How is the various data transferred to the relevant channels (automation, multi- and omnichannel relevance, core business requirements)?

The payment offer - a decisive service factor
When you create an online shop concept, a well thought-out payment offer is one of the most important service factors. Studies such as those by ibi research show that purchases are abandoned in the final stages, namely during the checkout process, if preferred payment methods are missing. Therefore, you should devote as much attention to the topic of payment as to all other functions of the online shop. The choice of payment methods offered should also be based on your target group. Standard procedures such as purchase on account, (instant) bank transfer or credit card payments and services such as PayPal or Fawry should always be part of the payment mix of your online shop concept. When considering payment, consider the following questions:
Which payment methods are generally among the most popular in online shopping?
Which payment methods are most important to my target group?
Which payment methods will become relevant in the future?
Especially with regard to new payment methods, you should keep yourself up to date. In the meantime, for example, the use of so-called digital wallets is increasing, i.e. payments via Apple or Google Pay and other providers. Your concept should take technological progress into account and your online shop should be expandable accordingly. This also applies to other shop functionalities.
Clarify further shop functionalities for customers and retailers
In addition to the payment offer, your online shop and the underlying shop software should cover other standard functions. These include, for example, a search function and the possibility for customers to register and log in. In addition, you should consider these points in the online shop concept:
Shipping options: Find out about shipping options and different providers such as DHL or UPS and Hermes. The technical setup of your shop will need interfaces to the shipping partners. Likewise, you should include functions for calculating prices by region and country.

Language selection: Do you want to sell internationally? Then your online shop should support different languages and currencies for cross-border commerce.

Accounting options: How should the invoicing be done? Do you need different VAT rates due to international trade? Define requirements for your shop's accounting and its software.

Marketing features: This aspect is a big issue for your online shop. Because it involves different aspects. From SEO (URL structure, keywords etc.) to the connection of price search engines, blog functions for content marketing to classic marketing features and cross-selling. Check your needs in the marketing area. How should your shop be optimised for search engines? Are there possibilities to link it with price search engines like Idealo? Can you carry out various marketing measures via the backend of your online shop (e.g. send newsletters, provide vouchers, etc.)?

Security functions and support: An online shop should be SSL-encrypted and enable automatic backups. In addition, a service level agreement (SLA) between you and the shop system provider is essential so that your shop website is guaranteed to be available. Furthermore, you should take a close look at the support offered. Define in your online shop concept which support services you want from the shop system provider. For example, 24/7 availability of telephone support.

Domain and e-mail addresses: Your online shop concept should also include which domain and main e-mail address you would like to use for the online shop. To this end, check to what extent a shop system provider offers domain and e-mail accounts as part of the package.